Japan's first ever DevRel (Developer Relations, a conference for developers) was held on July 29th, 2017 (Saturday) by MOONGIFT and DevRel Meetup in Tokyo. (Photos are from 2017/07/29 DevRelCon Tokyo 2017 | Flickr, DevRelCon Tokyo 2017 | Flickr, 20170729-DevRelCon Tokyo 2017 | Flickr)
Details about the conference are as follows:
Event Name
DevRelCon Tokyo 2017
Number of Tickets Sold
149
Number of Participants
120 (80% participation rate)
Location
Nihombashi Tower Cybozu, Inc.
Time
July 29th, 2017 (Saturday) 9:00 - 17:45
Number of Speakers
22 (5 Japanese speakers)
Sponsors
18 Sponsors
Distinctive Features
All English sessions Follows foreign the conference by the same name as closely as possible
As mentioned above, this conference was unique in its all English sessions (including the hosts). Of course there were interpreters; despite this the Japanese speakers all communicated in English. (There were 5 Japanese speakers this time.)
Here are some behind the scene stories.
Encountering DevRelCon
DevRelCon first started in London in September, 2015. Meanwhile, DevRel service has been provided at MOONGIFT since March, 2015, beginning with Nifty Cloud Mobile Backend. After a two months trial has ended, I furthermore began to provide support for NS Solutions hifive. It was at this time that I saw the announcement for DevRelCon. The conference was announced just as I started my business; it's as if it was made specially for me. Looking back as I have held this time's event, it feels almost like fate. By the way I bought the tickets at the end of June, which I think was just before the early bird tickets ended.
Additionally, at that time I was thinking to myself that in order to advance my business, I need to start to actively travel abroad. Due to Japan's population decrease trend, it appears to me clear that after the 2020 Tokyo Olympics ends, the economy will start to fall. It is paramount that I can be in control of my own life, as well as the life of my family. I want to actively avoid a life where I do not possess any core skills and have to simply follow what the company says, or else I might be fired. I started traveling abroad in preparation for this risk hedge.
At DevRelCon London 2015, due to my lack of English skills and knowledge about DevRel, I was only able to understand at best 1/3 of it. Nevertheless, me coming the way from Japan to attend this first time conference was enough to capture the attention of Matthew, the one behind the event.
The second conference, DevRelCon San Francisco 2016, took place in May. Naturally I attended this one as well. Furthermore, I also decided to become a sponsor. Even though I was the lowest bronze sponsor, it was the first conference that MOONGIFT had sponsored. I was then invited to the party for speakers and sponsors, where I met with BeMyApp, from whom I later received to chance to host the Global AI Hackathon.
I remember talking to the event organizer Matthew at that time about hosting this in Japan. Even though the market was still small, we thought the possibility exists.
The third conference, DevRelCon London 2016, took place in December, 2016, which MOONGIFT also sponsored. At this time I urged Matthew to take this conference to Japan. I had still imaged him being the one behind it, and MOONGIFT would still sponsor and provide support. I would have never thought that I would be the one holding it. I suspect it was because Ogino from IBM BlueHub (MKI at that time) became a speaker at the conference. Maybe it was him who demonstrated what the Japanese market had to offer.
Hosting the DevRelCon Tokyo 2017
In December, 2016, after the DevRelCon London 2016 had ended, Matthew and I exchanged emails, and I was tasked with holding the DevRelCon Tokyo 2017. In essence, I would hold this event in their name, similar to how franchising works. I was quite nervous when I first heard about it. However, after talking with community members at DevRel Meetup in Tokyo's Slack channel, and hearing mostly positive opinions, I took the task. I would like to thank everyone for giving me the necessary push.
I signed the contract in January. From there I started working on things such as preparing the website, working with the CFP (the system for recruiting speakers), and selling tickets. At that time, I was trying to follow the original DevRelCon as closely as possible. Although some Japanese flavors would be fun for the foreign participants, I didn't want to change it into something else. I was thinking about bringing my favorite DevRelCon into Japan the way it really is.
For that reason, I insisted it to be all English. On the other hand, the event was quite an expensive one (JP¥ 9,000 - 20,000) by Japan's standard. The DevRel Meetup that I was hosting costed merely JP¥ 800 - 1000 each time. Because we provided food and drinks each time, there were no profit. I felt like people needed to realize that they can't gain valuable information unless they are willing to pay for it. Even though the tickets selling went very rough, I didn't give in on this point.
We made a dedicated channel on Slack right when contract was being signed. Additionally, DevRel HUB also started at around the same time. DevRel HUB is an event that takes place on Monday evenings at 8 o'clock, where people gather at a pay-as-you-go bar to drink and talk among themselves. I learned this from Kojima, former AWS marketing supervisor for the JAWS HUB. We talked about how we should proceed at those occasions.
Leadership
At first I proceeded while gathering all kinds of opinions on the internet; but as it went on I started deciding more and more things by myself. I used people's opinions as a reference, but in the end I had to make decisions on my own. I would like to apologize if I had betrayed any member's trust in any way. However, in a council system, progress is hardly made because there is no one to take the final responsibility, i.e., no one can make the final decision. Thus I feel that if I, MOONGIFT, who signed the contract, cannot push the plan forward then no one else can.
Nevertheless, all members voluntarily worked on this project. I personally don't like to control people, so thank you all community members for following up.
Hashi's Joining
It's kind of scary when I think about it now, but in January 2017 when the contract was signed, MOONGIFT was a one man company with only myself. To be honest, if a conference of this scale were to be organized by one single person, I think it would turn out extremely chaotic. At the very least, preparations for the pre-event and the main event wouldn't be able to go on at the same time, and cleaning up the after party would be terribly difficult. Since the conference had two tracks, a single host would be problematic too.
Hashi joined me in April, while I first met her at the DevRel Meetup in Tokyo #14 in November, 2016. She participated in the DevRel Meetup that took place in GitHub Japan's office when John from GitHub, who later became a DevRelCon speaker, visited Japan. It started with me hearing that she had interest in DevRel, so I asked her if she would like to join me. There were some complications, but in the end she joined in April and started working. I am grateful for her correcting my less than adequate techniques and helping me better work with community members.
To Entrust Work to Others
Since I left my previous job in 2006, I have always been a one man company, and it became natural for me to work on my own. I might have forgotten that I could let others help. Of course for the jobs that I can't do, such as designs, I had other people do those. But it was because those people were also professionals like myself, so they seemed trustworthy. I feel that I had forgotten how to entrust work to someone else, and then watch them make progress.
This time, though, on many occasions the works simply had to be done by a group. No one was a professional, but they all tried their best to help in their own ways. Maybe there are better, more efficient ways to do the job. Nonetheless thanks to all those who did their best, DevRelCon Tokyo 2017 ended up being a fantastic conference. Although there were some instances that I thought things could be done better, I am satisfied to say that this is the best we have right now. That being said, I will still learn from this experience and correct my mistakes next time.
Doing something that we knew next to nothing about was a very fun experience. It was entirely different from the normal DevRel support service or system development, especially since there was absolutely no way to change the due date (the event date). Among everything else, having the community members think of their own methods and working on those was quite a rare experience.
Supporting the Speakers
This time, we were unable to support most speakers' travels (flights, hotels, etc.) due to our lack of funds. The word "DevRel" was unfamiliar to many in the first place, so I felt the event wouldn't be too large scale either. Supporting the speakers' travels would be extremely difficult.
Despite this, the community on Slack had thoroughly planned out the speakers' travel, -- regarding the event site, their stay in Japan, commute to the hotel, etc. They tried their best to make sure the speakers all had a great time in Japan. Thanks to their superb communication beforehand, the presentations all went smoothly during the event.
Especially since I am not good at English, I much prefer to communicate over text-based mediums. I feel that as long as I could gain their trust online, then I would also be able to provide good escort for them when we meet offline.
This method is used not only by DevRelCon, but also by the O'Reilly Open Source Convention. During their Netherlands event, all participants were forced to join their beginner channel. However, hearing what people had trouble with on that day, and looking for people to eat dinner together on the channel was actually quite convenient, so we adapted this into the DevRelCon. I would go as far to say that it might be better to have all participants use it.
About the Designs
We had Kaneko from blockworks design all the items for us this time. Even though sponsors keep being added, and the list of things to make just goes on and on, she was able to respond to all of those very quickly. Since when the company changes the template also changes, she also addressed those. Kaneko used to design everything from websites and namecards for MOONGIFT. In that sense, I have been working with her for a long time, and I don't think any other designer would be able to complete everything we need on time. Of course if we had tons of budget they perhaps could, but with our budget this time, probably not.
The Thought of Inviting Guy Kawasaki
At first, I had considered inviting Guy Kawasaki for a keynote, especially since it's in Japan, to have a strong impact. I sent him an email directly, and received a very positive response from him.
Afterwards, I was introduced to his agency, and started working with them instead to decide on the amount of payment. That being said, it was way beyond our budget... I will avoid talking about the exact number, but it was a number that made me give up the moment I saw it. I don't know if I should say as expected for people in America, or that the price just racks up as soon as an agency is involved. I can't say if it's good or bad, but now I understand why the Developer Relations Coference that was able to invite Guy Kawasaki costed between JP¥ 150,000 to 450,000.
Selling the Tickets
There are three essential things for a conference: the participants, the speakers, and the sponsors. This time though, because we were able to borrow the venue for free, I didn't give too much thought about the sponsors. In terms of speakers we also received over 80 CFPs. This leaves the participants the only problem to tackle.
I had set the goal at 150 participants from the start. This is because the DevRelCon London had 200 participants, and we wouldn't be able to gather that many (because in London it was the second time, and it's an English-speaking region), so I decided to aim for a crowd somewhat smaller than that. In terms of result, 149 tickets were sold, and if we count the training day, then the number became 151. So we just barely reached the goal. I was really happy when we reached the goal as the tickets slowly sold until the end. Personally speaking, the most important jobs I needed to do were as follows:
Gathering a crowd that satisfies the sponsors
Finding speakers that satisfies the participants
Gathering a crowd that satisfies the speakers
I had to reach these three goals. As you can see, the crowd is really important to both the speakers and the sponsors. The participants, on the other hand, decide whether or not they should come based on the speakers, or rather, the contents. In order words, if the event didn't have enough "DevRel" in it, then not many people would gather. Furthermore, I don't think the sponsors would want to sponsor such an event either.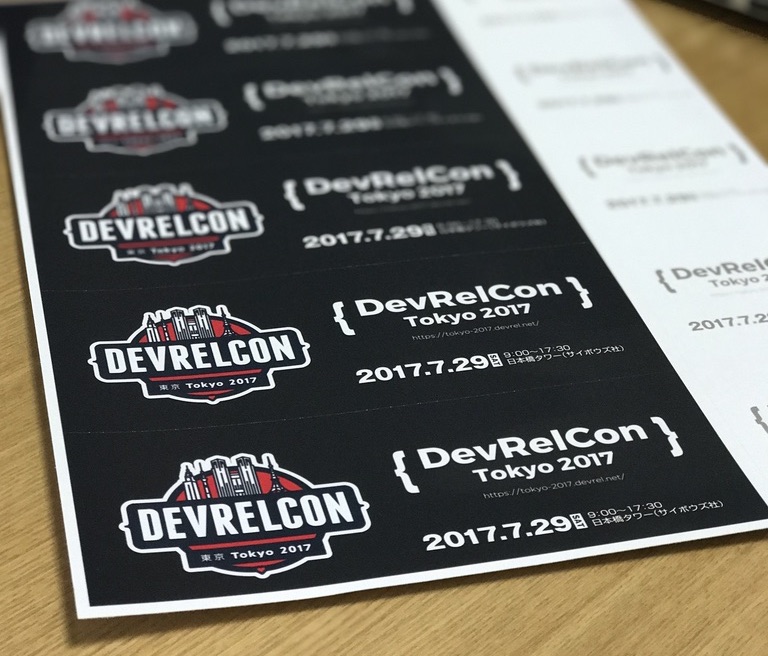 A large part of why we reached our goals, I think, is thanks to people such as the speakers and Matthew promoting the event for us. There were also a number of tickets sold through our community members.
Among those, we were able to raise people's understanding of the word "DevRel" by writing aritcles for our media sponsors. We were allowed to publish two articles on ThinkIT and one on CodeZine (articles written by Hashi).
It was also the first time for Hashi to publish articles on the media, so she seemed to have learned a lot from the experience. In fact, several tickets were sold because of the articles. It affected not only the speakers, but also people's understanding of DevRel and the success of the event. Due to this event's success, DevRel is now recognized by more people, which I think will make things easier for us in the future.
About the Conference Itself
Personally I was quite happy with the result considering it was our first attempt. Of course it still left a lot to be desired. The simultaneous interpretation, response to the sponsor companies, flow of the day, food, etc., all could be done better. I would like to address these problems, as well as improve upon what we did well in the next conference. Nevertheless, I believe most participants had a lot of fun during the event.
Conducting the Event
We controlled the flow of the event based on a flow chart made beforehand. That being said, one cannot prevent unpredicted events from happening. Therefore we decided to share the contents with the members so we could respond to problems together if any were to happen. On the day of the event, we announced during the morning greeting that "we would interfere too much with the details. Please do what you think is best." It was partially because we were unable to micromanage every single detail, partially because this was, after all, a community based conference, so people's individual judgments were important. Moreover, there was not a single negative person among the members. I imagine it would be different if they were told to attend this by their companies. They would not respond negatively to problems because they all attended by their own will. For this reason, I trusted all the members that whatever they chose to do, it would be appropriate for the situation. Therefore we did no micromanagement.
What to make our priority was quite important. Making our participants and speakers think "it was fun; good thing I came" was everything. On top of that, enjoying the event as a member was also crucial. As long as people kept these in mind, their judgments shouldn't differ too much from each other.
Another important thing was interacting with the participants and providing community members with the rare opportunity of hearing those speeches. Staying entirely in the backstage would hardly be very interesting (although as an organizer that would be fine). I wanted to interact with community members at the front line to provide them with enjoyments. This event was not just a bunch of speech sessions, but also a place for people to connect with each other.
Gratitude to All
It would be impossible for me to hold this conference on my own. I would like to express my sincere gratitude to all, and especially all of the following people:
Interpreters
Speakers
Sponsors
Venue Provider
Community Members
Everyone Involved
Despite many things lacking, I would consider this time's event a success. Although it would be impossible for me to list them all, this conference was made possible by everyone's passion and support. It was quite interesting that until the event day, I had the feeling that "I had done it myself." Negotiating with the sponsors, selling the tickets, signing the contract with Hoopy, updating the website, ordering souvenirs, etc. I was quite proud that I had done all that myself. However at the event, I was responsible for nothing more than hosting. The receptions, giving out transceivers, giving out tickets at the security gate, these were all done by someone else. I can now say with confidence that this conference was, in fact, made possible by everyone including the participants, the community members, the sponsors, and the venue provider!
Now I feel that MOONGIFT as a business is also seeing new possibilities. Furthermore, DevRelCon Tokyo is scheduled to take place again in 2018! I would love for everyone to come!